Folder Synchronize is not a GUI utility. However, the program has several optional graphical dialogs that can be presented during a synch operation. All meters and screens are enabled with various script switches. See the program documentation for more information. Scroll through this page for some samples.
Prompted Synchronize Dialog
By using one of the 'negative value' Operation= switches and (optionally) one of the Synch Flags= settings, you will get a dialog similar to the below. You can override the preselected choice if you like.
Prompted Synchronize Dialog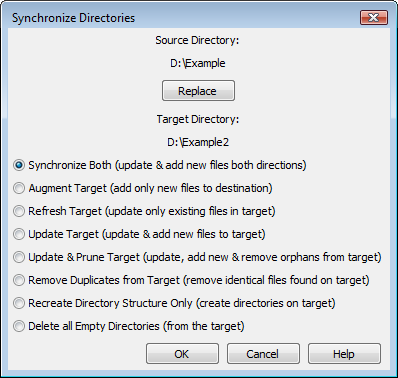 Progress Meter
When Show Progress=1 is specified a meter similar to the below is presented. The Allow Cancel= switch determines whether or not the cancel button works. The Custom Message= switch lets you specify some text of your choice. The Bitmap File= switch lets you put a .bmp graphic of your choice in the center of the progress meter.
Optional Progress Meter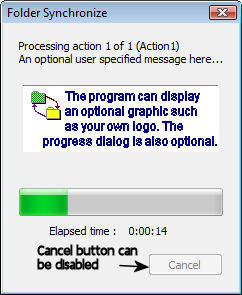 Another View of Progress Meter
Using no Custom Message and a different .bmp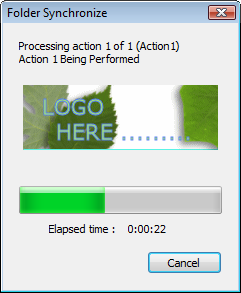 File Replace Confirmations
When Confirm Updates=1 and Use OS Operations=0 the program presents a dialogs similar to the below during file replaces. Specify Confirm Updates=0 for no confirmations. The Use OS Operations= switch determines whether internal vs. operating system based confirmations are used. The internal dialogs have more choices.
Optional Replace Preview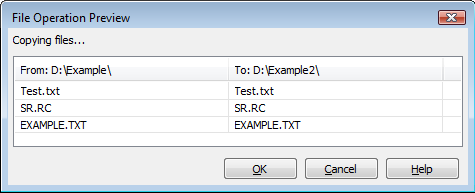 Optional Replace Confirmations


Summary Message Boxes
When Display Error Messages=1 the program presents concluding graphics similar to the below after a script is complete. Specify Display Error Messages=0 for no such message boxes.
Optional Concluding Message