PO Auto-Translator is a freeware utility we created as an adjunct to our Resource Translation Toolkit. PO Auto-Translator reads an existing po/pot file and automatically translates the strings using the language setting specified in the po/pot via MyMemory Translated.net. At the same time a reverse translation is preformed to cross-check the results against the initial translation. If the reverse translation matches the original string the 'Reverse Translation' column in PO Auto-Translator is blanked out as an indicator that the translation/reverse translation match. Checkboxes can be used to specify the strings to process automatically. Individual strings can also be edited (and translated/check) by double clicking on a string.
PO Auto-Translator runs on Windows Vista and above, including Windows 10. The program is also compatible with fully patched Windows XP computers as of the XP 'end of life' point.
See License Statements for the EULA agreement for PO Auto-Translator.
PO Auto-Translator Main Window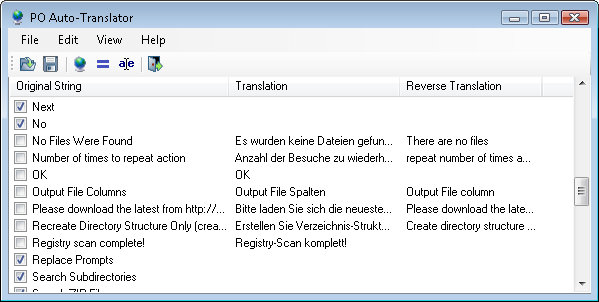 PO Auto-Translator - Edit Item Dialog